Shrink Wrapping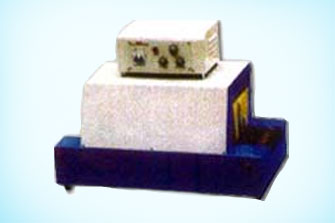 Features
Variable conveyor speed up to 10 Maters/min.
Digital temperature controller.
Lower electricity consumption.
Silicon sleeve on conveyor rods.
ALLESPACK Shrink tunnels are heavy duty design and adopt quartz infrared tube as heating source for more than 20% electricity saving. Shrink temperature and conveyor speed can be adjusted uniformity within a wide range to produce uniform shrinkage on different grade of films. Silicon sleeves help produce impression free surfaces.
Specifications
Model: 2012
1
Power supply
AC 220V, 50Hz

2
Tunnel Opening
(WxH) 200 x 120mm
3
Power Consumption
2.4kw
4
Chamber Length
485mm
Model: 3025
1
Power supply
AC 220V, 50HZ
2
Tunnel Opening
(WxH) 300 x 250mm
3
Power Consumption
4.0kw
4
Chamber Length
800mm
Model: 3030
1
Power supply
AC 220V, 50HZ
2
Tunnel Opening
(WxH) 300 x 300mm
3
Power Consumption
5.0kw 7.2kw
4
Chamber Length
850mm
Model: 4035
1
Power supply
AC 220V, 50HZ
2
Tunnel Opening
400 x 350mm
3
Power Consumption
7.2kw
4
Chamber Length
950mm