Semi Automatic Strapping Machine 8020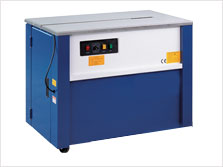 Description
One Touch and Easy Operation: Turn the power on and you are ready to strap your packages.Motor stops automatically when not in use within preset 60 seconds to save energy and prolong motor life.
Advanced P.C.B Control System : New easy to replace printed circuit board (P C B), controls feeding,tensioning, welding, sealing, cooling and strap welds as well as other functions of the machine for trouble-free and low-cost operations. Perfect Welding Heater Plate: One piece die-cast nickel steel heater plate completely eliminates heater blade problems associated with other style heater elements.
Quality Electromagnetic Clutch Transmission: Durable Electro - Magnetic clutch transmission increase motor life, strapping speed and reduces overall machine noise.
Specifications
Heavy Duty Model: 207
1
Power supply
1Ø, 220 V, 50 HZ
2
Driving Motor
1/4 HP, 220V, 200 Watts
3
Strap Width
6 - 15mm
4
Strapping Speed
1.5 sec/strap
5
Min. Package Size
60mm
6
Max Package Size
Any Size
7
Weight
100 kg
8
Sealing Method
Heat Sealing
Dimension
910mm (L) x 580 (W) x 730mm (H)
Model: 405
1
Power supply
220V (50H)
2
Driving Motor
1/4 HP, 220V, 200 Watts
3
Cycling type of Strapping
1.5 Sec
4
Single PCB Model Min. Package
60m max/any size
5
Size
100kgs
6
Weight
Heat Sealing
7
Method of strap sealing
910mm (L) x 580 (W) x
8
Dimension
730mm (H)
9
Strap Width
6.15mm