Synthesi Pallet Wrapper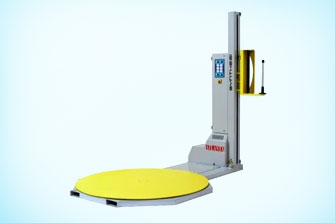 Features
Control System: PCB.
Folding column: easily for installation and shipping.
Simple and easily understood control panel.
Front and rear forklift pick up points.
Soft start and stop.
Mechanical brake film carriage.
Precise phase stopping at cycle end.
Photocell sensing delay externally adjustable.
Manual control is available.
Machine specification is variable according to your requirements.
Options
Power supply: 110 V or 380 V.
Ramp Turntable diameter: 1650 mm; 1800mm; 2000mm.
Film carriage for different top prestretch rate.
Specifications
1
Power supply
220V 50Hz 1Ph
2
Turntable diameter
1500 mm
3
Max wrapping height
2100mm
4
Turntable rotation speed
1-12rpm (adjustable)
5
Film carriage speed
0-90mm/sec (adjustable)
6
Max pallet weight
2000kg